New Brothread Embroidery Thread

New brothread is a very professional Manufacturer and Supplier for all machine and hand Embroidery & Sewing Supplies Since 1988.
They owned TOP high quality machines including Twisting machines with Italian technology and Winding machines with Germany technology to supply their Embroidery & Sewing Threads in high quality.
New Brothread's thread is made using polyester, which gives the thread a high tensile strength. This lowers the risk of puckering, looping, fraying, or breaking on the complete decorated product.Polyester also gives the thread the advantage of adhering to the colors even when exposed to bleaches, commercial laundering, and other harsh chemicals. 
This thickness makes the threads usable on Brother, Babylock, Janome, Pfaff, Bernina, Husqvarna, and Singer sewing machines, making them highly compatible.
Features
Made using polyester, which is strong and resists fading for a long time.
Highly compatible with the most common embroidery machines. Perfectly compatible for Brother, Babylock, Janome, Singer, Pfaff, Husqvarna, Bernina Embroidery and Sewing Machines.
Excellent tensile strength – Lower risks of breaking or fraying, Elasticity and Tenacity of polyester also reduces risks of looping and puckering of Polyester Embroidery Machine Thread.

All the threads in this kit have a 40 weight, which is quite thick but ideal for almost all sorts of embroidery projects.
CHOOSE YOUR BEST OPTION!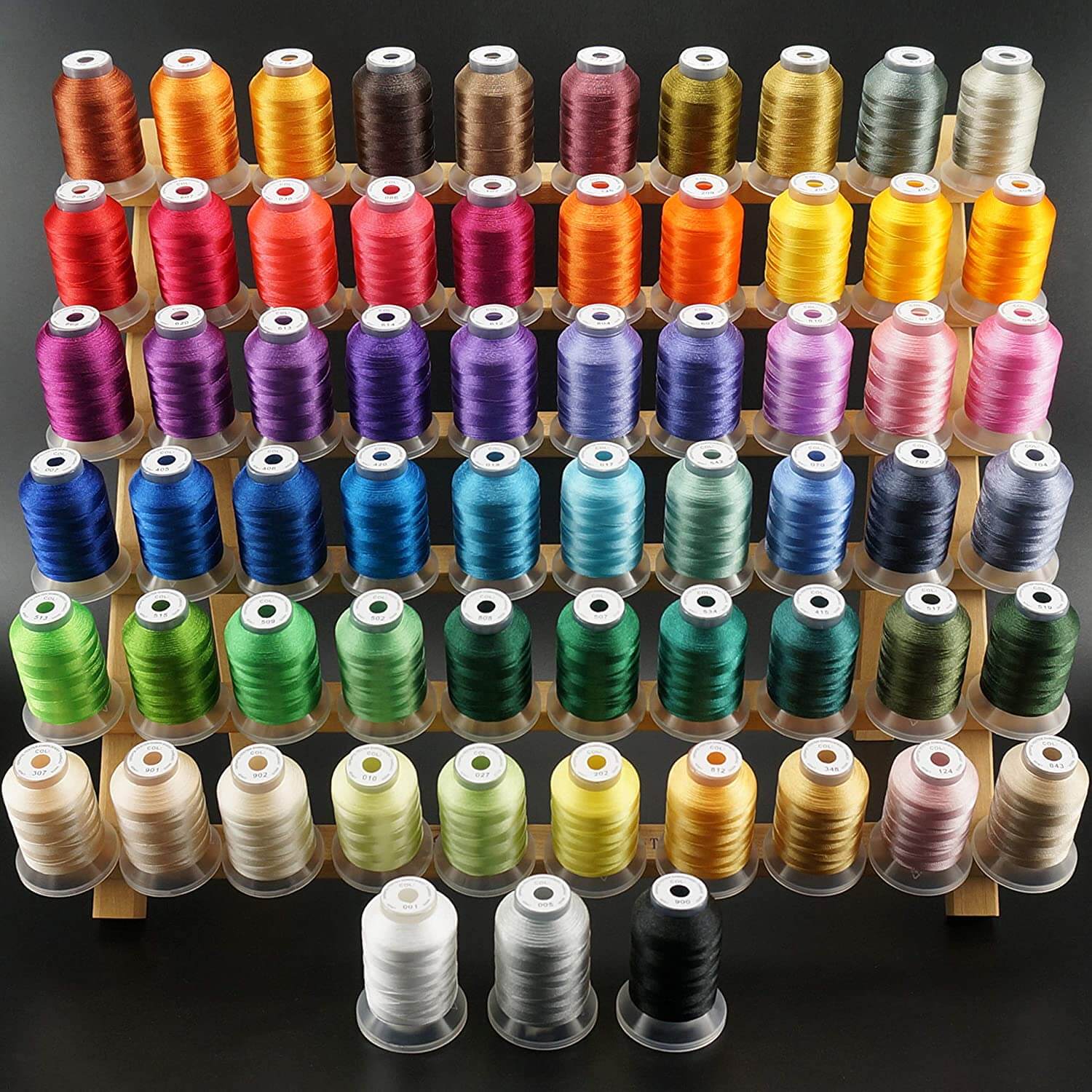 New brothread 
63 Colors Polyester Embroidery Machine Thread
63 spools variety of colors
550 Yards(500M)
40 Weight standard
Excellent tensible strength
For Brother Babylock Janome SingerPfaff Husqvarna Bernina. ALL purpose Embroidery and Sewing Machines
View price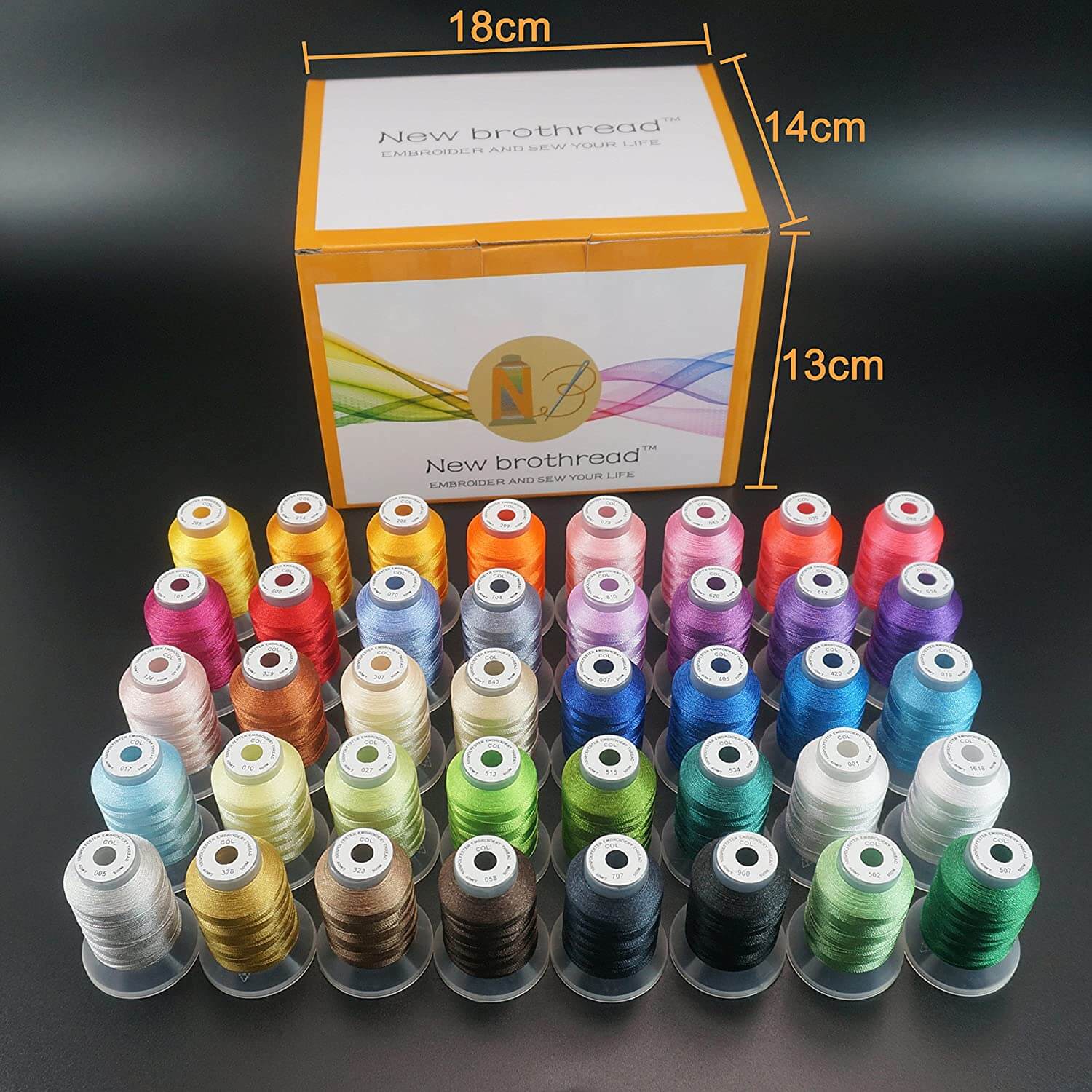 New brothread 40
 Colors Polyester Embroidery Machine Thread
40 spools variety of colors
550 Yards(500M)
40 Weight standard
Excellent tensible strength.
For Brother Babylock Janome SingerPfaff Husqvarna Bernina. ALL purpose Embroidery and Sewing Machines
View price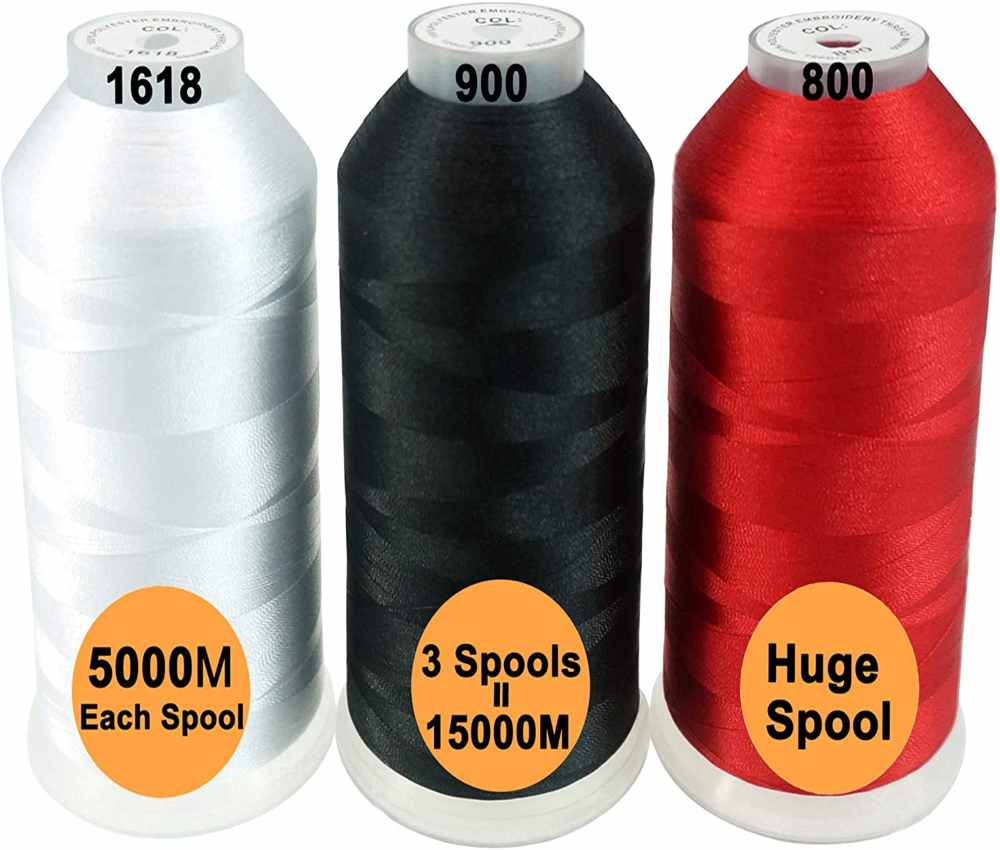 Various Assorted Color 
Embroidery Machine Thread
Value pack Basic Colors (3 huge spools)
5500Y(5000M)
40 Weight standard
Made 100% polyiester
For All Embroidery Machines including Home based, Semi-industrial, Industrial and Commercial Embroidery Machines
View price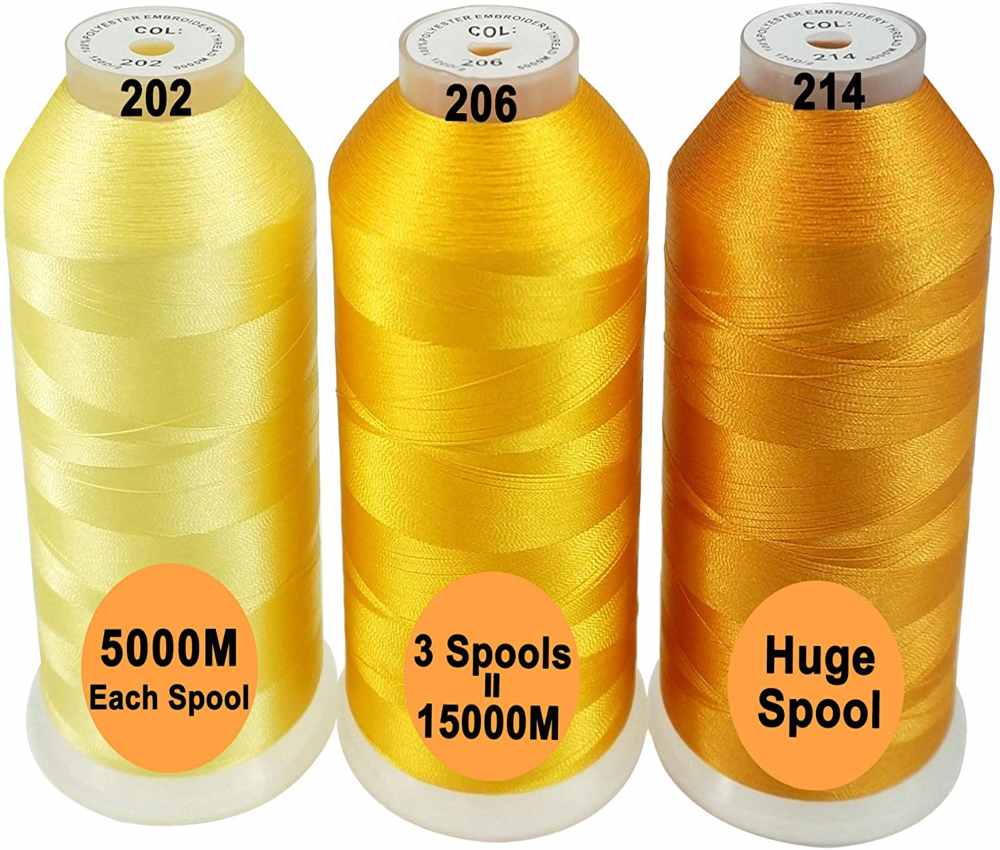 New brothread v
arious Assorted Color 
Embroidery Machine Thread
Pack Different Yellows (3 huge spools)
5500Y(5000M)
40 Weight standard
Made 100% polyiester
For All Embroidery Machines including Home based, Semi-industrial, Industrial and Commercial Embroidery Machines
View price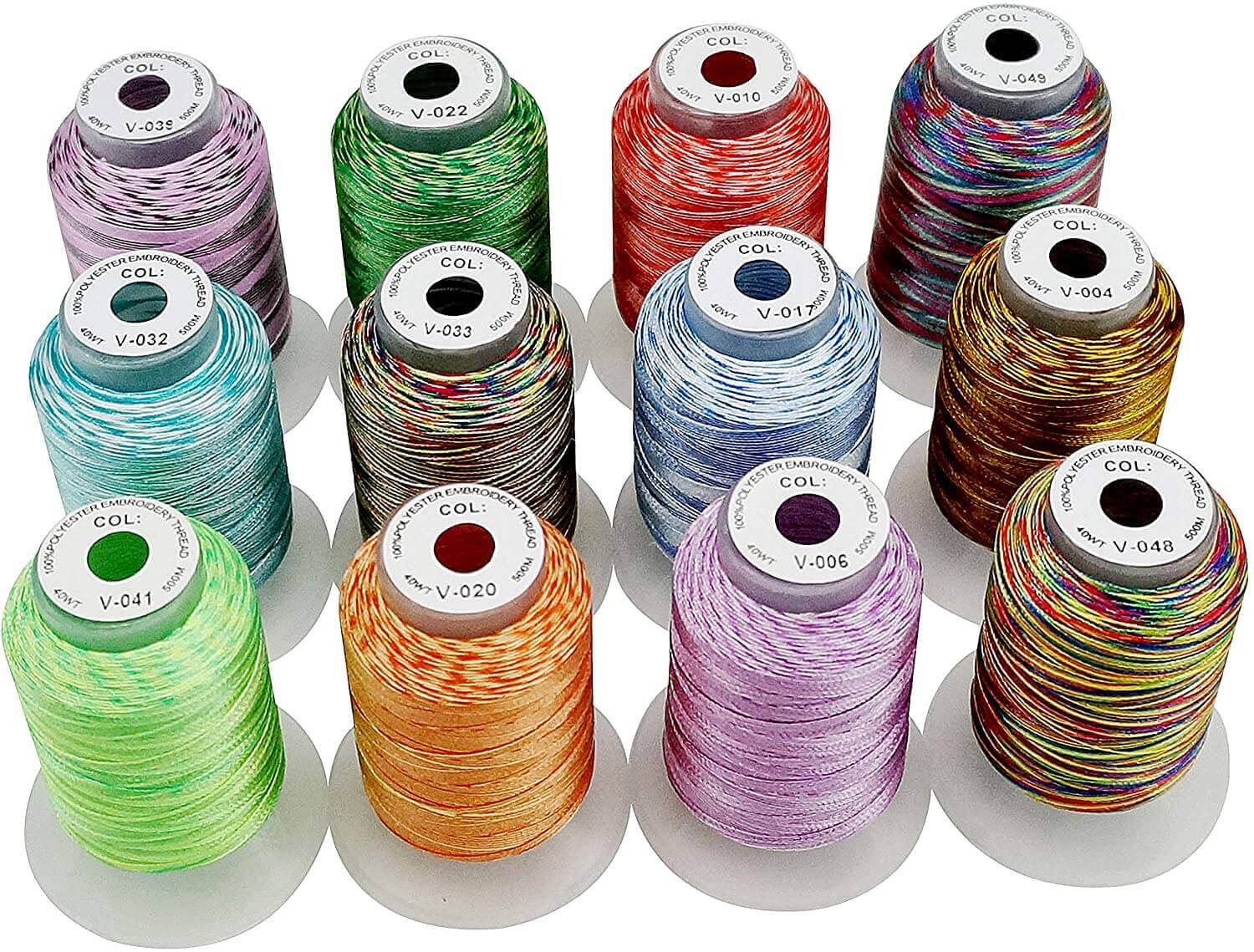 New brothread 12 Colors Variegated Polyester Machine Embroidery Thread 
12 spools variegated colors
550Y(500M)

For Brother Janome Babylock Singer Pfaff Bernina Husqvaran Embroidery and Sewing Machines
View price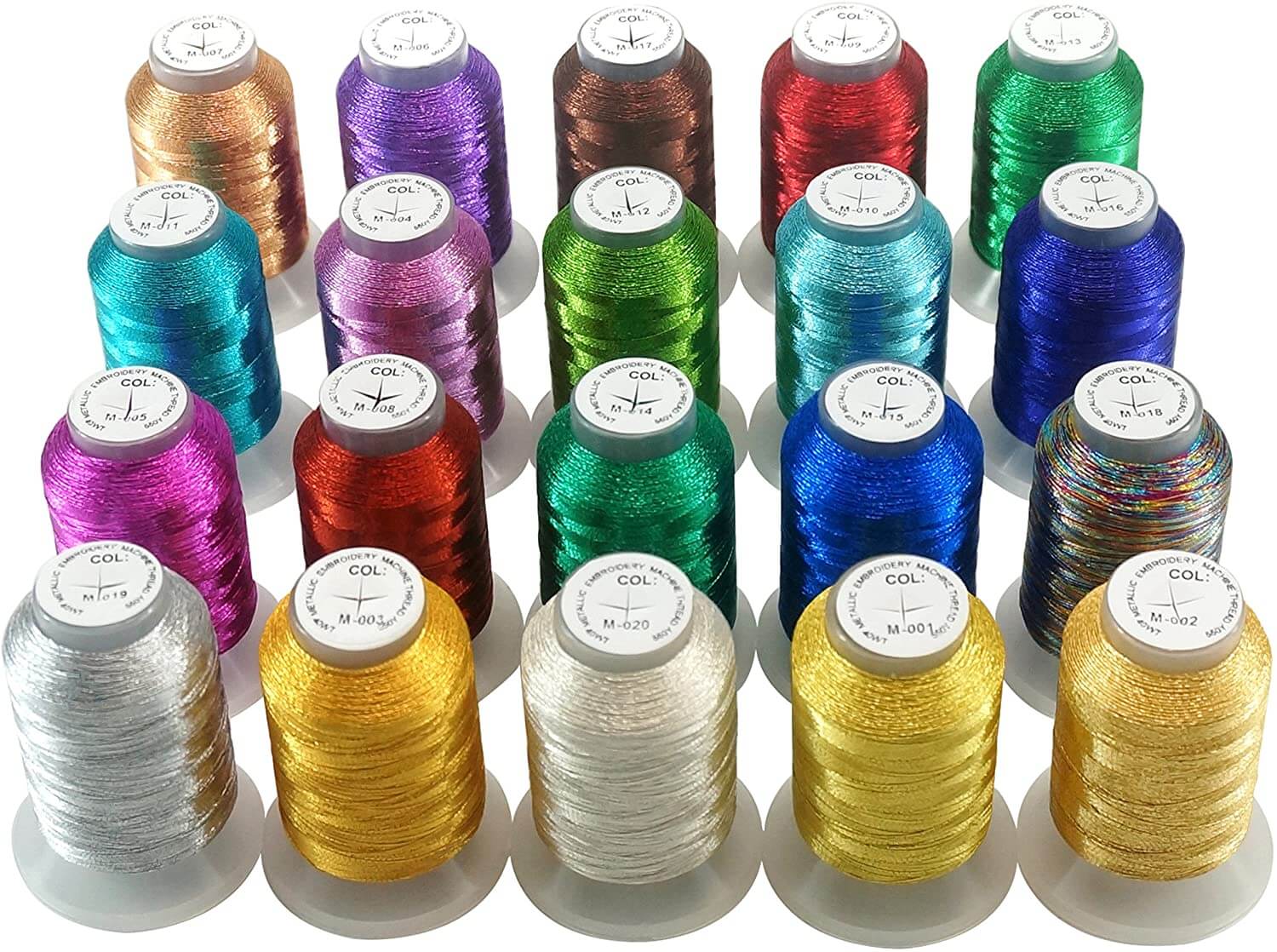 New brothread 20 Assorted Colours Metallic Machine Embroidery Thread
20 spools assorted colors
550Y(500M) 40 WT

For Brother Janome Babylock Singer Pfaff Bernina Husqvaran Embroidery and Sewing Machines
View price