Brother LB5000S Sewing & Embroidery Machine Star Wars Edition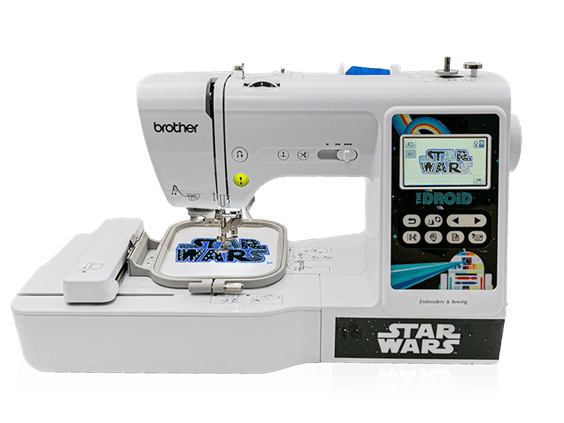 Express your love for Star Wars with 3 interchangeable Classic character faceplates and a Star Wars logo faceplate. Easily switch between the Darth Vader, Princess Leia, and Droid faceplates with repositionable adhesive
This 2-in-1 sewing and 4×4 embroidery machine allows you to embroider and sew with ease. View your embroidery designs in full color on the large, 3.2″ Sew Smart color LCD touch screen display, and preview your design edits on the screen, before stitching. Expanded embroidery design editing features include the ability to change individual thread colors, place lettering in an arc, move designs on the touch screen display with the touch of a finger, and much more.
Choose from 80 fresh, inspiring embroidery designs built in or import your own designs through the USB port. Sewing features include 103 versatile built-in sewing stitches, needle up/down and variable speed controls and drop feed for creative free-motion sewing. Included are 7 quick-change sewing feet, with spring action zigzag, buttonhole, overcasting, monogramming, zipper, blind stitch and button sewing feet. The spring action zigzag foot is designed with a longer foot, and, combined with the longer 7-point feed dogs, help provide smoother fabric feeding.
Main Features:
Star Wars Classics Faceplate pack, with 3 interchangeable Star Wars character faceplates and a Star Wars logo faceplate
Star Wars design Pack code for 10 embroidery designs on ibroidery.com, plus a code for 10 additional designs
4″x4″ embroidery field, with an included 4″x4″ hoop, embroidery arm and embroidery foot
Large, 3.2″ Sew Smart color LCD touch screen display allows you to view your designs in full color before stitching
80 built-in embroidery designs, including beautiful decorative alphabet, borders, holiday, florals and kids designs
9 embroidery lettering fonts for personalizing your creations
103 built-in sewing stitches, including beautiful decorative stitches and 10 styles of one-step, auto-sized buttonholesvvvv
Expanded 6.4″ w x 4.1″ h needle-to-arm workspace provides more room for quilts and bulkier sewing projects
Includes 7 versatile sewing feet, with buttonhole, overcasting, monogramming, zipper, spring action zigzag, blind stitch and button sewing feet as well as 1 embroidery foot
Automatic bobbin winding system produces an evenly wound bobbin for optimal sewing
Sewing and embroidery machine
Create a garment or costume or add a Star Wars character embroidery to a tee-shirt with ease.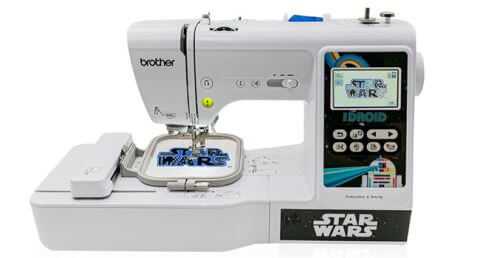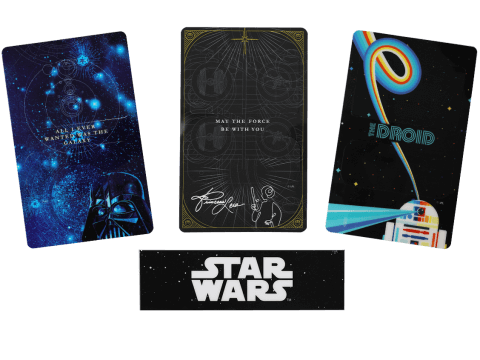 Interchangeable Star Wars Faceplates
Comes with four repositionable character faceplates. Swap between Princess Leia, Darth Vader, and R2D2.
103 Built-in sewing stitches
Comes with 103 built-in sewing stitches including decorative, utility and quilting stitches. You can preview and select your stitch on the Sew Smart color touch, LCD display.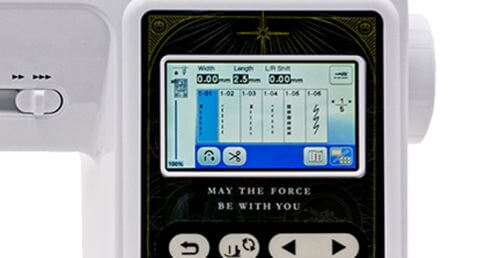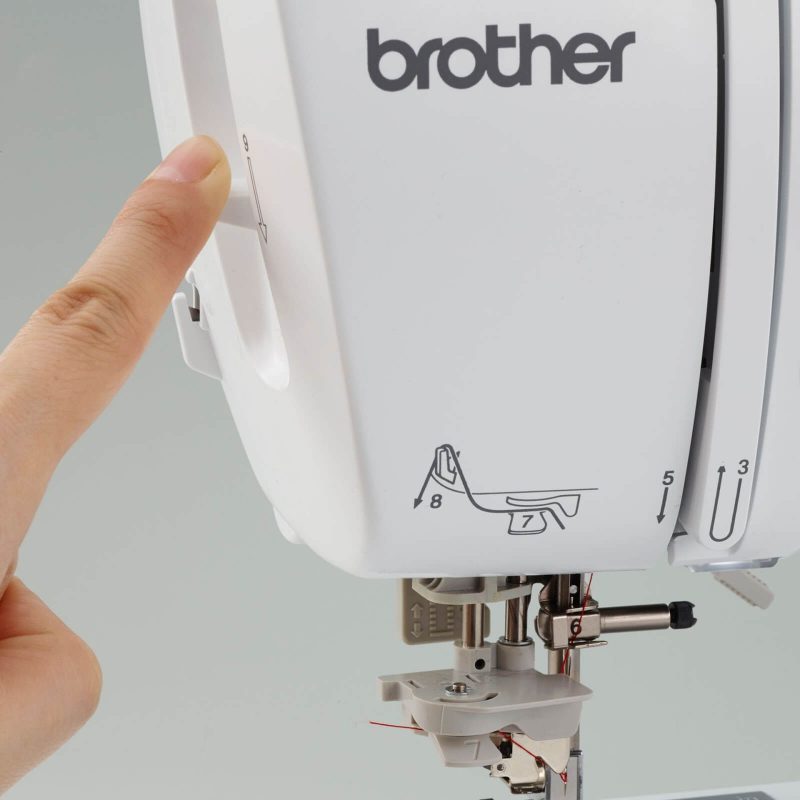 Automatic Needle Threader
The automatic needle threader allows you to thread your needle with the press of a lever.
Pros and Cons Brother LB5000S Star Wars Edition
Pros:
The fun interchangeableStar Wars designs for the front of the machine
The range of designs and stitches that go beyond this theme
The ease of use in the hardware and software for newcomers.
Cons:
The work area and hoop might be too small for everyone
There are concerns about the long-term appeal of the cheap plastic and fronts.
Video Brother LB5000S Sewing & Embroidery Machine Star Wars Edition
Top Embroidery Machines 2020